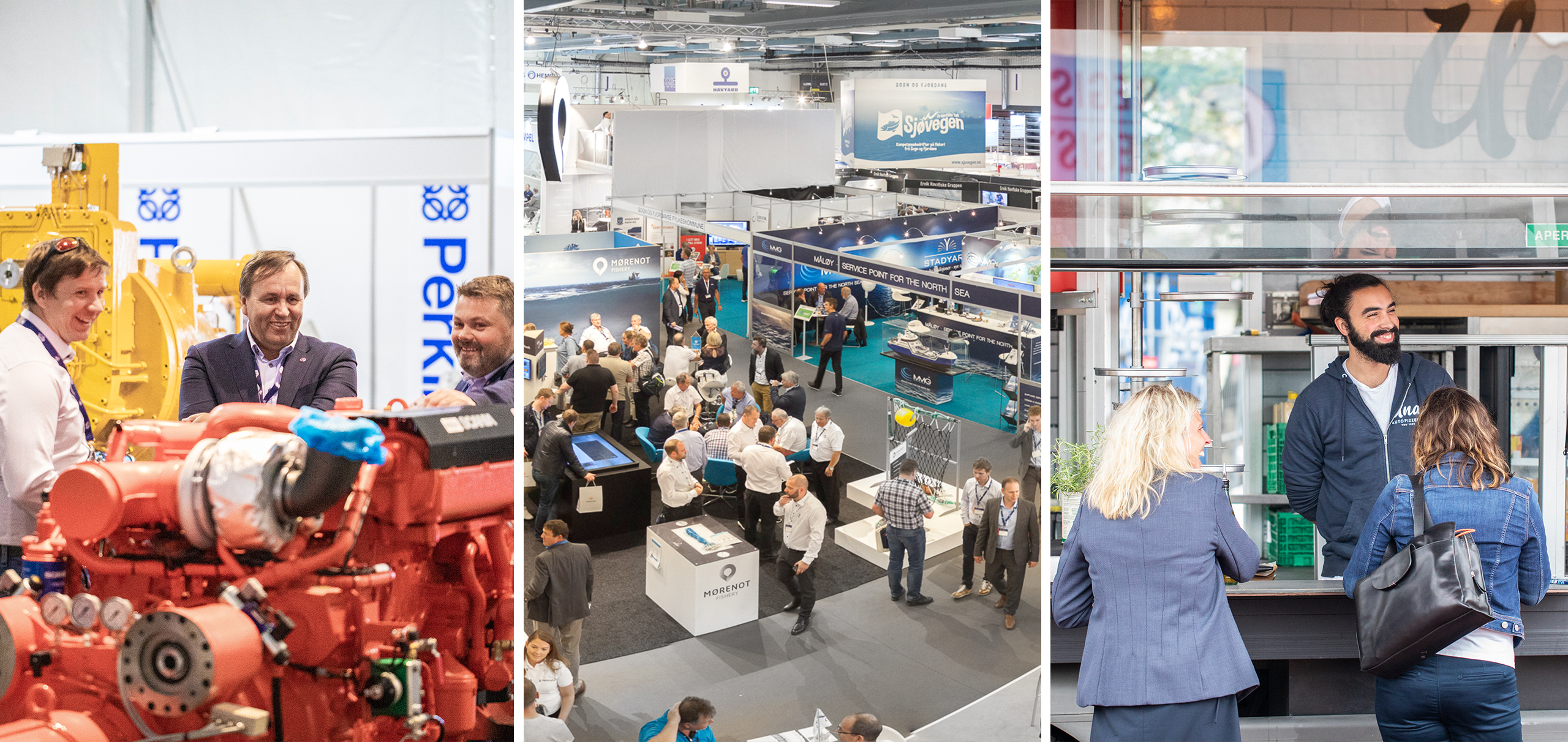 Finally, the fishing industry meets again: This is Nor-Fishing 2022!
1. November 2021 · Ukategorisert
Nor-Fishing is the fishing industry's largest and most important meeting place. The exhibition is held every other year – and when the event kicks off in 2022, it will be four years since the last ordinary Nor-Fishing exhibition. Therefore, we are really excited to finally meet you all again. Have a sneak peek at what is new, and our exciting plans for the exhibition!
The last time Nor-Fishing was arranged in a familiar format at Trondheim Spektrum, the premises were under renovation. That was four years ago. In 2020, because of the Covid pandemic, the event became fully digital for the first time in history. The new exhibition concept that had been planned for several years got off to a flying start.
Nor-Fishing in 2018 and 2020 were carried out with great success. Nevertheless, we have to go back to 2016 to find the last exhibition that was held without logistical surprises.
It is therefore a great pleasure to invite the industry back to Nor-Fishing as we know it – with a new twist that introduces even more ways for us to meet and interact.
Hybrid exhibition
For the first time, Nor-Fishing 2022 is arranged as a hybrid event. This means that in addition to the traditional exhibition grounds in Trondheim, we will have a digital meeting place – a digital trade fair platform.
The digital platform has already been tested, during our sister exhibition Aqua Nor, with great success. To give an indication of what you can expect from Nor-Fishing Digital, here are some key figures from the Aqua Nor Digital 2021 platform:

The digital platform is a unique supplement to the physical exhibition, which the entire industry can use as a meeting place, both prior to and after the exhibition in Trondheim. Following the sister exhibition Aqua Nor, the digital platform has been a hub for several dialogues.

Aqua Nor Digital 2021 is now open to everyone. You can register for free, to see how the aquaculture industry used the digital services this year. Nor-Fishing Digital will be on the same platform – feel free to get acquainted right now.
This is new in 2022
Next year's exhibition will provide more opportunities to meet, and more places for exhibitors to present themselves. In addition, we have expanded and developed several of the "goodies" that make the physical exhibition a social hub.
Wide selection of food services
Since the last physical Nor-Fishing exhibition in Trondheim in 2018, the culinary scene has developed greatly. A wide variety of quality restaurants, using local produce and ingredients, have emerged – for you to enjoy during the exhibition days. Whether you prefer rustic street food or fine dining, the Trondheim food scene has something for everyone – offered at the exhibition area.
Informal, festive events
The traditional gala dinner will be held at Clarion Brattøra Hotel next year. This means that the capacity is doubled, from 200 seats in 2018 up to 400 seats next year.
In addition, the Nor-Fishing Foundation collaborates with the city's hotels to arrange informal meeting places in the afternoons. Two new events next year are After Fish – an informal meeting place after Trondheim Spektrum closes it's doors every afternoon, and Night Fish – an informal party with dinner and entertainment.
New Trondheim Spektrum
Trondheim Spektrum has undergone a major upgrade. Next year, Nor-Fishing visitors will, for the first time, experience the brand-new A-hall, which is Norway's largest indoor arena. The A-hall provides an additional 4 800 square meters for us to enjoy – in other words, Nor-Fishing 2022 will be the largest exhibition to date.
Exhibition app
In 2022, we will launch an exhibition app, for the first time in Nor-Fishing history. The app will give you access to everything you need, from hall maps and events to tickets and transport information– right in your pocket.
A new era with even greater exposure
Meeting physically at the exhibition grounds has a strong tradition in the fishing industry. Meeting others with an interest in innovation, pride in their profession and a passion for the important function our industry performs, is one of the most important reasons why so many flock to Trondheim during the Nor-Fishing exhibition. Therefore, we are very proud to arrange next year's exhibition with more and better options for both visitors and exhibitors.
At the same time, the world is small and digital, and digitalisation is gaining a foothold in traditional industries. The exhibition has always been an innovation hub, and the exhibition itself must also be developed – in line with the innovative and digital solutions that exist.
Therefore, we are very excited to offer Nor-Fishing participants access to the digital platform, in addition to the benefits the exhibitors get from our increased presence on social media.
During our sister exhibition Aqua Nor, we worked specifically with social media. This enabled us to reach far more people than before, with over 280 000 exposures during the exhibition, and 16 000 unique visitors. We have seen a doubling of the traffic on social media, which means increased visibility and exposure for our exhibitors.
Book your stand
Exhibitor booking for Nor-Fishing 2022 is now open! The space is filling up at a record pace – but we still have some spare capacity. Secure your stand today:
Sign up for our newsletter, to be the first to receive important information and exciting news ahead of Nor-Fishing 2022.
… And follow Nor-Fishing on social media!



Best regards,
The Nor-Fishing Foundation