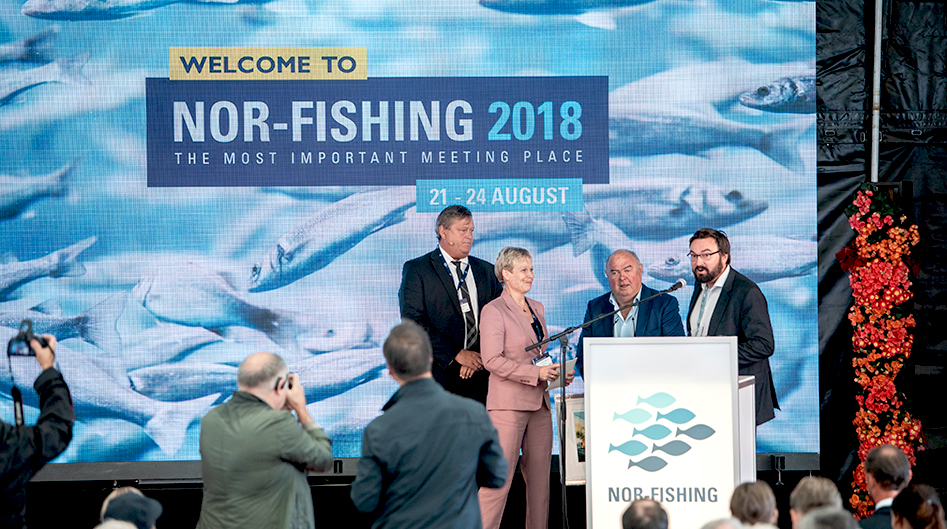 The deadline for applying for the Innovation Award is postponed until June 19 2020
16. January 2020 · Ukategorisert
You can win the Nor-Fishing Foundation Innovation Award. Send us your application today!
At least five applications must be submitted before the jury can appoint three final candidates.
Who can apply?
Companies or individuals from all over the world that supply equipment or services to the fisheries industry, or are in the fisheries industry, are invited to apply for the Award. The Award is given to the winner of the best product or service for the industry at Nor-Fishing 2020. The application for the 2020 Award must be related to the fisheries industry.
The Nor-Fishing Foundation wishes to stimulate R&D activities in companies and among individuals. Consequently, research institutions are not considered to be eligible for this innovation Award.
Criteria for the application
The R&D activity related to the fisheries industry must be affiliated with company(s) or individuals. The project that forms the basis of the application must be owned by the applicant, but can be carried out in collaboration with the research environment.
The deadline for applying for the Innovation Award is June 19 2020, but we are happy to receive your application as early as possible.
The application must include:
Applicant's name/company name, address, e-mail address, web address, telephone and contact person
A brief description of the activities of the applicant or company.
A description and best possible documentation of project, product, process or service. Please highlite the innovation aspects of the project.
Documentation of expected effect/result and market for applied project or service.
Please send the application to:
innovation@nor-fishing.no or by mail to:
The Nor-Fishing Foundation
Postboks 1251, Torgård 7030 TRONDHEIM
Please mark mail or envelope with The Nor-Fishing Innovation Award 2020.
If you have any questions regarding your application, please contact:Secretary to the jury, Odd Berg, odd9berg@gmail.com or telephone +47 901 19 942
Feedback from previous winners shows that the Innovation Award has been an important motivator for innovation as well as inspirator for marketing towards the international fisheries industry.
The winner of the Innovation Award will receive NOK 100.000, and will be announced at Nor-Fishing 2020 Digital – Thursday August 20.
NB!
If you have plans to apply for a patent, the patent application must be submitted before the technology is published at any exhibition, conference, magazine article or similar. Read more about this on the web page of the Norwegian Industrial Property Office.