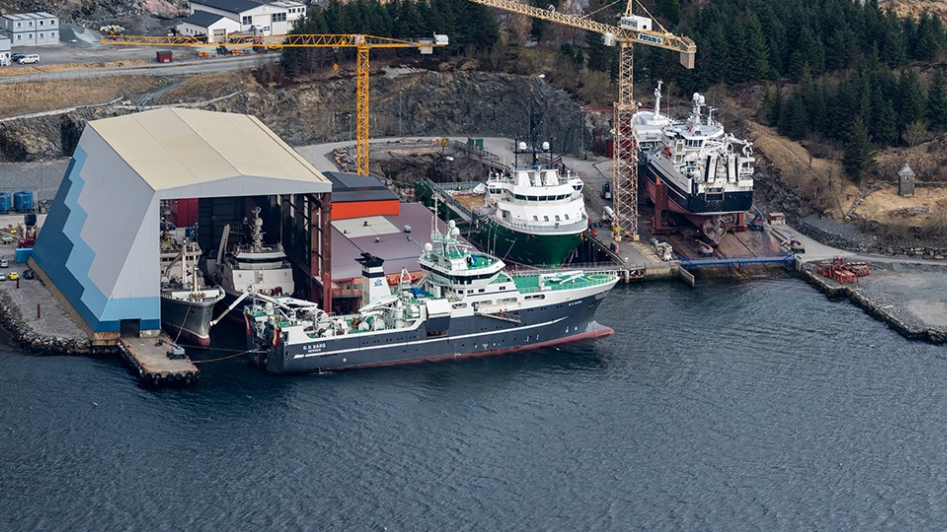 Norwegian Shipyard ready to build the future
21. August 2018 · Ukategorisert
Norwegian shipbuilding industry currently has construction contracts with a total value of NOK 50 billion on the order books. The Norwegian Shipbuilders Sales and Marketing organization is present at Nor-Fishing, hoping to meet owners who challenge the yards on price, innovation, quality and delivery precision.
The shipbuilding industry has recovered from a situation where they nearly closed down. "But now we are optimistic about the years to come. The green shift is significant in all segments and it means more assignments for Norwegian shipyards, leading the way in innovation and environmental technology, "says Norwegian Shipbuilders, CEO of Asle B. Strønen.
Big demand
On stand D-301 there are now five Norwegian shipbuilders under the Norwegian Shipbuilders organization umbrella. The Norwegian shipbuilder industry, of which they are all a part, currently has 100 major construction contracts on the order books. In the current year they are working on 39 of these, and these contracts have a total value of over NOK 20 billion. This translates into many jobs, local value creation and an important opportunity to build skills in future shipbuilding here in Norway.
The authorities have taken action
"We are competing on an international market. It is therefore very gratifying that the state budget has provided a good framework for the shipbuilding scheme. This is part of the reason why our future is so bright now", says Strønen, who adds that there are 21 applications for the scheme at the time of writing.
10 billion warranty
The Ship Scheme is a new loan and guarantee scheme for the purchase of ships from Norwegian shipyards, and assumes that the ships will be used in Norway. The scheme was largely a reaction to the decline in demand from the oil and gas industry a few years ago. The guarantee frame is NOK 10 billion a year over the next three years.
Will be challenged
Now Strønen and the member yards are looking forward to the future. "We look forward to being challenged by the efficiency and environmental friendliness of the industry. We believe that we are now well equipped to meet the requirements of the industry, and it is therefore natural that we look forward to good talks and discussions on our stand here at Nor-Fishing."
Norwegian fishing boats with solid environmental features
Strønen and his colleagues in Norwegian Shipbuilders have obviously noticed that the Norwegian fishing vessels have already taken great steps towards environmentally friendly solutions. "The fishing vessels in Norway are driving technology and innovation forward. They need both upgrading and renewing the existing tonnage to achieve their goals, and we want to help them reach those goals," concludes Strønen.
Norwegian Shipbuilders is represented by the five member factories at Nor-Fishing:
– Båtbygg
– Vaagland Båtbyggeri
– Båtbygg
– Vaagland Båtbyggeri
– Fitjar. Mek. Verksted
– Fiskerstrand Verft
– Aas Mek. Verksted
You will find Norske Skipsverft at stand D-301 during Nor-Fishing.
Main Photo: Båtbygg AS