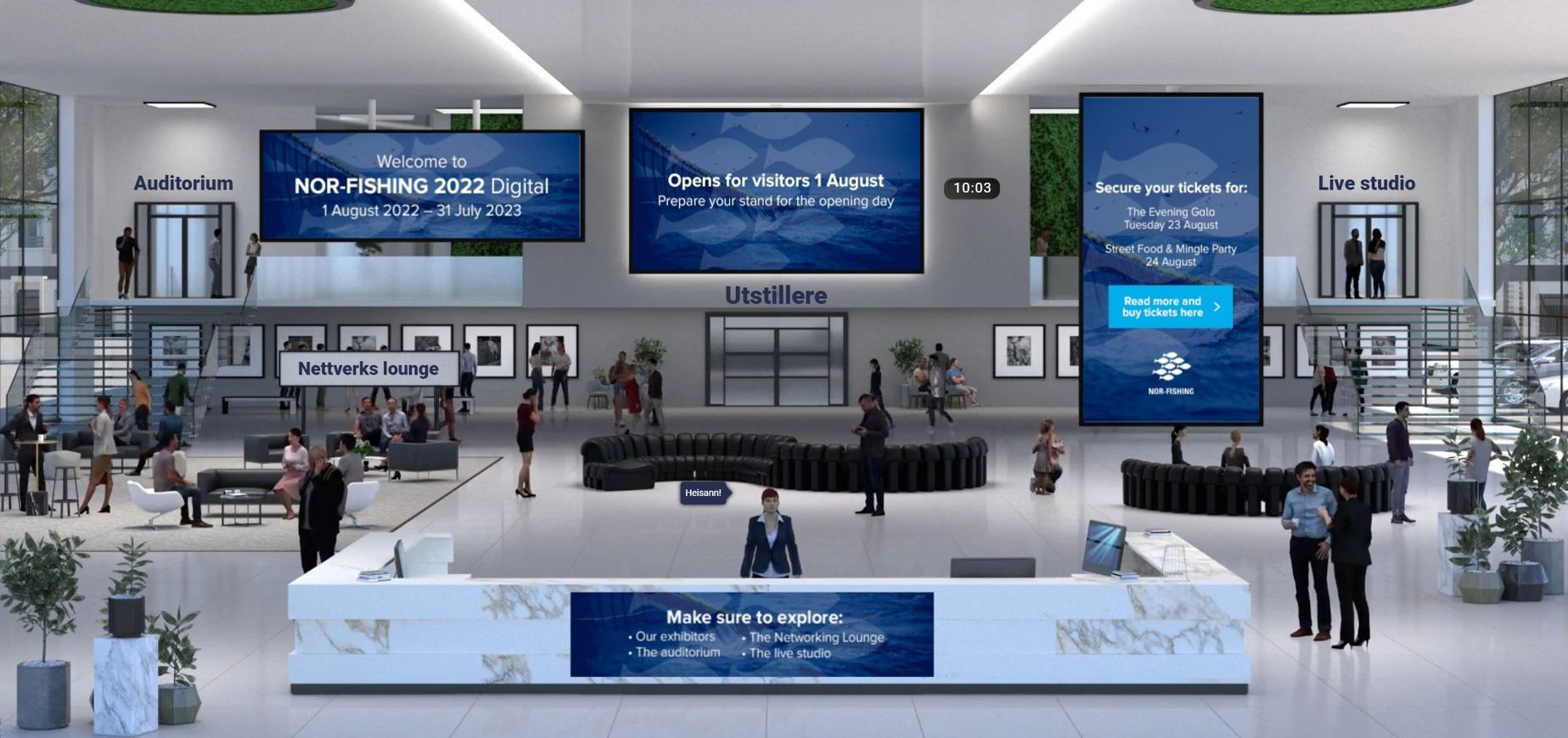 Visible for visitors at Nor-Fishing 2022 Digital: How to build your digital stand
13. June 2022 · Ukategorisert
Nor-Fishing Digital is an international meeting place, where the entire fishing industry can meet online. All Nor-Fishing exhibitors have a digital stand, where you can get in touch with them – to meet potential customers and partners from all over the world.
The digital exhibition – Nor-Fishing Digital – is an excellent showcase, which allows you to reach out to the fisheries industry.
On Nor-Fishing Digital, we broadcast live from Trondheim Spectrum during the exhibition and show exclusive digital content. The platform is interactive and offers a sea of opportunities with a much larger audience than the participants in Trondheim Spectrum.
The platform was also used during Nor-Fishing 2020 and Aqua Nor 2021.
Opens for visitors August 1st – prepare your stand before the opening
Make sure you set aside some extra time, to prepare your digital stand before the opening. It's quick, and an excellent investment in extra visibility.
How to: Prepare your digital stand
All registered exhibitors have received login information, in an e-mail from norfishing@netfair.com.
Go to www.expobo.com and login with your username and password.
Once you're logged in, you will be taken to your exhibitor profile.
In the top right corner, click edit. This brings you to your stand.
At the top of your screen, you see three different modes:
Design mode: Choose the design of the stand, and select your furniture, floors, walls, receptionist, etc.
Edit mode: Edit the content of all stand surfaces, like banners and screens.
View mode: See how your stand appears for visitors.
Press "change stand", to the right of the three display modes, for an overview of the different design templates. You can easily upgrade your stand to gold or platinum, to get more features and options.
Guide: Upgrade your stand
How to: Design your digital stand in company profile
You can add your company's trade fair content to your digital stand. Among other things, you can easily add:
Company information
Advertising banners
Roll-ups
Video
Brochures
News updates
Picture gallery
Link to website and social networks
Tip: For the best result, design your content according to stand formats. See each surface's formats (px. x px.) by clicking the cogwheel next to each surface.
How to: Publish your stand
In "My Profile", click "Publish" in the top right corner. Your stand is now visible for all visitors. For questions about designing your stand, contact: norfishing@netfair.com.
Tip: If you need to temporarily remove your stand from the public, click "unpublish" in "My Profile" (under the stand).
Guide: Create your stand