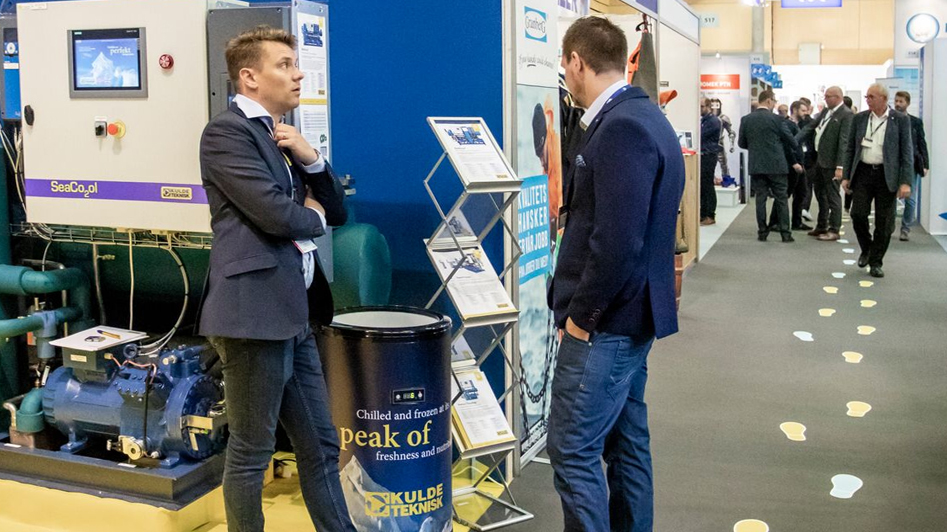 Footprints in F-hall caused by cold fusion
23. August 2018 · Ukategorisert
Attentive people visiting the F-hall during Nor-Fishing have noticed a trail of footprints between two of the stands. The footprints has been laid down to mark two former competitors joining forces in a fusion.
The two companies behind the stunt is the Norwegian refrigeration and cooling experts Kuldeteknisk and FrioNordica. They are now under joint ownership.
– As former competitors we have been scowling at each other during past exhibitions, CTO Frode Berg of Kuldeteknisk says with a smile.
Footprints for unity
– We're laying down the footprints between the stands now to symbolize that we are walking towards each other – and to point our customers on to FrioNordica – that is now complementing our total offer to the market, says Berg.
About the companies
FrioNordica have established a strong position in the seafood industry both in Norway and internationally, while Kuldeteknisk is one of the leading entrepreneurs in refrigeration technology. Together they are now a total supplier to both the fisheries and aquaculture industries.
FrioNordica mainly deliver solutions based on the natural refrigerant ammonia and have established much of their expertise ammonia driven systems. Kuldeteknisk have on the other hand, established a solid position in CO2-facilites.
You'll find the two former competitors in the F-hall:
FrioNordica: F-514
Kuldeteknisk: F-519
Foto: Gerhardsen & Karlsen / Snølys